With the numerous paid and free websites and applications available online, finding the right place for your kids to learn piano is difficult. That's why we've put together this list.
The websites and apps mentioned in this article provide an easy way for kids to start learning, so let's take a look at the best options:
1. PianoLessons4Children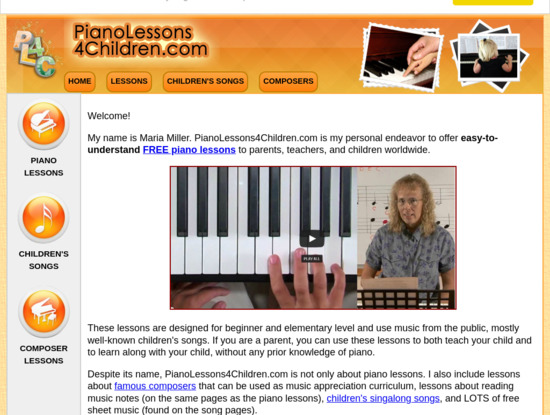 PianoLessons4Children.com provides kids with free piano lessons that are simple to understand.
The video lessons are for beginner students and feature mainstream music, including popular children's songs. Parents can use the lessons to help instruct and practice alongside their kids, even if they don't know how to play the piano.
PianoLessons4Children.com isn't all about piano lessons. It also includes useful courses on notable composers and their musical styles, reading music notes, sheet music, and singalong songs.
The website has a simple interface that is easy to use. The various lessons available allow children to begin learning piano comfortably and at their own pace. The educational courses also ensure that children have a well-rounded learning experience on the site.
2. Hoffman Academy

Hoffman Academy offers much more than just piano lessons to children. The approaches used inspire them to grasp music fully. The online piano lessons provide kids with the skills and strategies they need to become professionals through creative videos and encouraging musical education resources.
The website's entertaining and instructional style taps into children's interests and excitement to make learning enjoyable.
There are over 240 video tutorials that make it easier for kids to understand advanced musical principles. Beginners can look forward to studying solfège, improvisation, composition, music reading, and more.
Hoffman Academy offers both a free and a paid membership option. With a paid membership, kids can enjoy customized practice sessions, chart their success, play interactive piano games, and play music with expert backing tracks.
3. Pianokids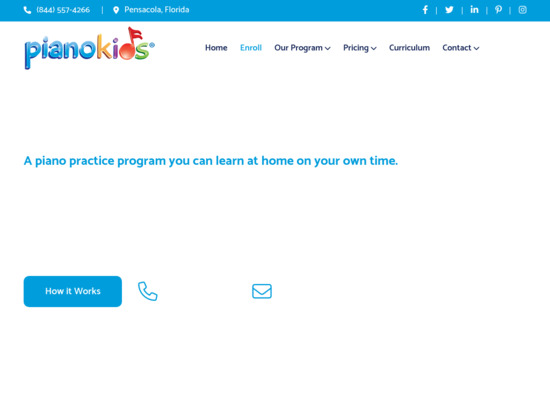 Most piano lessons are targeted toward older students. However, Pianokids is a website devoted to the needs and learning preferences of children aged 3 to 6.
Pianokids provides a convenient curriculum that encourages kids to use their natural interests to play real songs and read music.
The lessons are entertaining for kids and help them naturally shift from basic to more sophisticated principles. Kids can study at home using printed materials and online educational tools.
The approaches used help make learning quick and exciting, encouraging kids to enjoy playing the piano before learning to read music. The conventional teaching methods are transformed well to meet the needs of younger children, including shorter sessions to accommodate their short attention spans, as well as games and exercises to make learning feel more fun.
4. Piano Maestro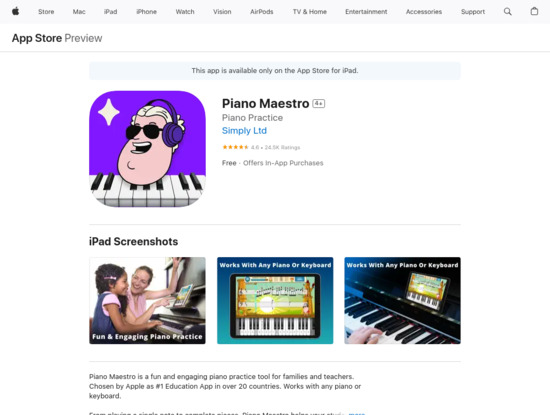 Get it on: App Store (Apple)
Piano Maestro is a friendly and interactive piano app for kids who want to start practicing playing the piano.
From learning how to play a single note to practicing music reading, rhythm, playing with both hands and technique, Piano Maestro helps kids practice to bring sheet music to life.
The application works in a chapter format, giving rewards as the user plays. As the levels increase, so does the difficulty. This makes the experience enjoyable for the child as they feel like they are playing a game.
The library has over 2800 songs and various music genres, so you can pick one that your child would enjoy. The touch mode is a useful feature if you do not have a piano at home. If you have a piano, the app can recognize the music you are playing on it to advise and give you tips to improve your playing.
Users of the application have access to several free levels. However, to gain access to all the levels and features, the app has to be upgraded by paying a subscription fee.
5. Simply Piano
Get it on: Google Play | App Store (Apple)
Simply Piano is an easy and enjoyable application to learn piano for beginners and intermediate-level learners. It can be used with any piano or keyboard.
There are a lot of fun tracks on the app. The lessons include a variety of musical styles and skill levels. From learning sheet music to performing with both hands, kids can enjoy learning fundamentals in a step-by-step manner.
The tempo of songs included in the app can also be adjusted, meaning that kids can practice at a comfortable pace. Creative exercises also help ensure that kids improve rapidly and consistently.
The app is great for kids who have no prior experience of playing the piano. And even if you have not bought a piano yet, you can use the Touch Courses to determine whether your child enjoys playing.
Another great feature of the app is that it can identify the song you are playing if you place your device on the piano. This helps kids practice easily and develop their piano skills while getting direct feedback on their playing.
While users can practice two courses on the app for free, a subscription package has to be bought to access all the courses.
6. Kid's Piano Lessons on Udemy
Udemy is a marketplace for online learning and teaching with over 130.000 courses and 35 million users. It is one of the biggest and most accessible online learning sites in the world.
The service has thousands of piano lessons for children, making it a great resource to use.
In the detailed video courses, lecturers can teach your child everything they need to know about piano lessons, from the fundamentals to reading music and playing the piano at a basic level.
After the courses are completed, kids will be able to play easy songs and be in a position to take advanced lessons and even exam courses with the belief that they have a solid foundation in piano and music.
7. Making Music Fun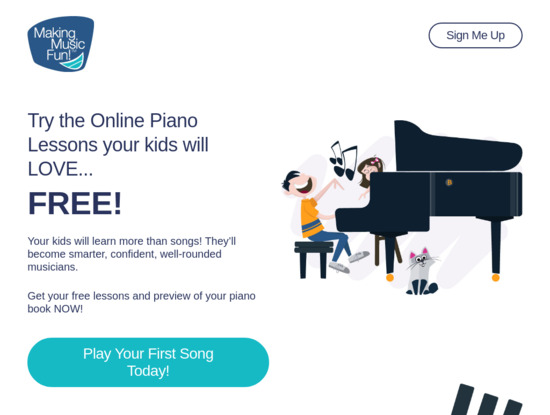 Making Music Fun helps kids go beyond learning songs. The innovative lessons increase the child's knowledge of the musical world and help them look into professional piano playing.
The website's lessons are well-connected, ensuring that your child can practice tips repeatedly even if they do not remember the previous lesson.
Making Music Fun is useful since the child will learn to play the piano by taking short, easy lessons and having fun. They will also learn how to read music.
The child-centered and motivating approach of the academy helps kids learn faster. Kids can start at the appropriate level suited to their needs and then continue learning at their own speed.
The website offers some free piano lessons and previews of piano books. However, to gain access to all the lessons, piano books, worksheets, and more, there is a subscription fee.
8. Playground Sessions
Playground Sessions is a very popular piano-learning platform for kids and adults alike. It also comes as an app for iOS devices so children can even learn on an iPhone, iPad, or Mac computer.
This platform and learning method is very rewarding for kids, making it a suitable choice to keep them interested while learning to play. It features detailed, step-by-step lessons with scores and rewards along the way when completing lessons.
Although it's a paid platform/app, it has many benefits such as real-time feedback, play-along tracks, a vast song library, and even instrumental backing tracks for when they learn the ropes.
While kids can learn the basics, Playground Sessions offers a journey forward with many features, songs, and techniques to learn and not dwell on just a beginner level.
9. Gismart Piano
Get it on: Google Play | App Store (Apple)
Gismart Piano is a free-to-download virtual piano app with an electric keyboard simulator that has in-app purchases for expanded content for both Android and iOS users.
The keyboard simulator offers any type of piano from a Grand piano and Organ to a Vintage piano and even other instruments. You can play and learn without having a physical keyboard around so it's really great for kids.
The app offers a plethora of free songs to play and Magic Tiles and Magic Keys mini-games to keep it interesting. From classic to popular songs, kids can make it a game while learning the fundamentals.
Naturally, it's best to use it with a tablet or iPad for a bigger interface to make it more realistic.
10. Pianu
Pianu is another online piano-learning platform targeted at kids. It's a platform designed to make learning the piano fun for kids and young beginners.
It features bite-sized lessons that kids can take to learn the fundamentals while they progress. They start from basic tutorials then gradually roll into lessons, learning to play songs, and more.
Afterward, when they build a solid foundation, you can enlist your kids to live lessons with a teacher and even buy/upgrade your equipment.
The platform offers a very nice song library and challenges to keep you on your toes. With a detailed lesson plan, kids can go from complete beginner to upper intermediate.
Can Kids learn piano through apps and websites?
Absolutely! Music education has taken a huge step forward with the coming age of technology. Music and instrument-learning websites and apps have made it possible, and sometimes more reliable, for children and young beginners to learn an instrument.
Private lessons are certainly not a thing of the past as they offer a more structured and hands-on experience with a professional who can guide you. However, learning online or through an app has many benefits such as a gradual pace, stress-free learning, an affordable/fun way to learn, and more.
So, the answer is definitely yes. If your kids are on the phone or computer all day, regardless, why not be productive and maybe learn an instrument while they're at it?
What is the best age for a Child to learn piano?
This is a very popular question. Typically, the optimal age for a child to start learning the piano is around 6-9 years old. This is the time when kids are suitable to handle a keyboard, app, or tablet piano and build a strong foundation for when they grow up.
Summary
In-person piano classes are not always a feasible option for parents. Comparatively, online piano lessons offer convenience, reduced costs, flexibility, and the ability to learn from the comfort of your home.
Making use of online courses is an excellent way for kids to begin learning and for parents to start figuring out how interested their child is in the instrument.