Are you looking for fun and interactive kids' music quiz and trivia websites to keep your children engaged?
If you are a teacher or a parent who wants to test your kids' music knowledge, online quizzes are a great option. After all, what's better than solving a mini mystery while you get this massive adrenaline rush followed by instant gratification!
Listed below are our music quiz and trivia website's top picks. The websites are a mix of genres, but the one thing they have in common is that they are all engaging and support individualized learning.
Let's dive right in.
1. Beano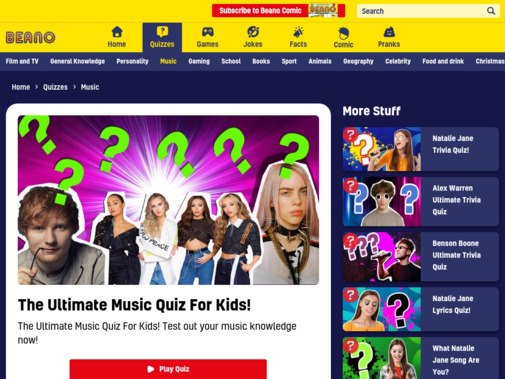 Go to website: Beano
If your children love comic books, then you might have come across the Beano comic.
The website's music quiz section comes with a large variety of quizzes, including but not limited to pop and rock. During Christmas and Halloween, Beano also introduces special quiz editions featuring relevant singers.
Almost all quizzes consist of ten questions, and each question contains a relevant image. Moreover, Beano hosts several quiz competitions online with epic prizes, which is a great way to engage enthusiastic kids.
Once the kids have selected an option under the question statement while giving the quiz, they cannot change it. However, if the results are not up to expectations, they can retake the quiz anytime!
2. Kids-quiz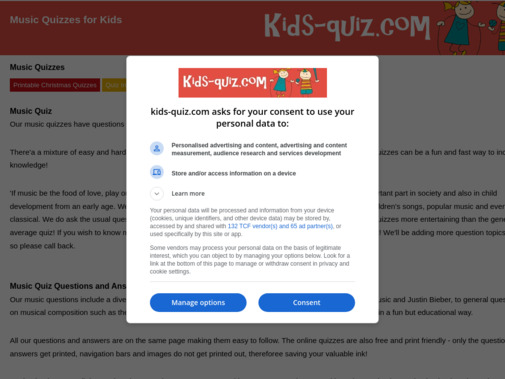 Go to website: Kids-quiz
Kids-quiz is another fun website that offers online quizzes on a wide variety of topics, including music. The music category has three different quizzes, and each quiz has twelve questions. Unlike Beano, kids-quiz does not provide options with each question to choose from.
The questions are listed at the top of the page, while the answers to the questions are listed under the 'Answer' section. This makes navigation simpler and easier. All three quizzes have both easy and challenging questions, but the number of advanced questions is higher than the simpler ones.
Considering the layout of the website and the types of questions, we recommend using Kids-quiz for older kids. You can also print the quizzes easily if you do not wish to take them online.
3. Knowalot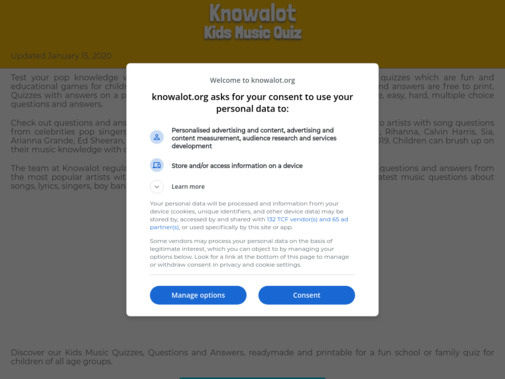 Go to website: Knowalot
As the name suggests, Knowalot is great for children who like to 'know a lot' about music. This website's quizzes are focused on popular singers from the noughties and 00s, including 2019. This includes Ed Sheeran, Justin Bieber, Selena Gomez, and other world-famous bands like One Direction.
The layout of this website is simple and easy to follow. There are eight general and one 'One Direction' quiz available on Knowalot. Unlike most quiz and trivia websites, the questions and answers to the kids' quiz have separate pages.
Each question page has over ten questions that include both difficult and easy ones. The questions are printable as well, which makes it easier to conduct them in classrooms. Moreover, the questions and their answers get updated regularly, so you don't miss out on any of the latest news!
4. FunTrivia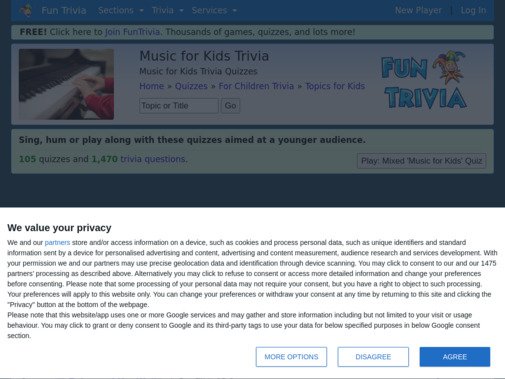 Go to website: FunTrivia
If you are looking for a wide range of music quizzes, FunTrivia is the website for you. This website comes with a large variety of quizzes, and when we say large, we mean it.
FunTrivia has over 18,000 music quizzes on its website, which are free to play. The music section is divided into ten sub-categories, and each category has over 800 quizzes. The A-Z categories have listed almost every famous band, such as 'One Direction' and 'Maroon 5'. You will also find quizzes related to world-famous singers, including Lady Gaga.
The quizzes are both challenging and easy. The difficult ones have 'Tough' written against them, and the easy ones are labeled as 'Average'. FunTrivia also allows you to choose between timed and untimed quizzes so that you can solve the quiz at your own pace.
All the quizzes are printable, which makes it easier for the teachers to conduct them in classes. However, if you are playing online and want to save your scores, you must sign up on the website. Don't worry; signing up is free of cost.
5. Mindhubber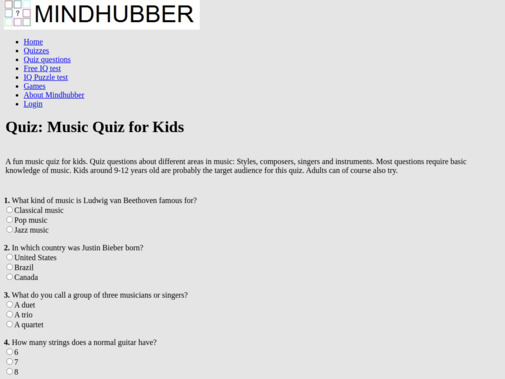 Go to website: Mindhubber
Mindhubber is another fun website that allows you to take online music quizzes. The quiz questions by Mindhubber are a blend of musical instruments, singers, composers, and genres.
All the quizzes come with over ten questions, and the answer key can be checked once the quiz is solved and submitted. The questions are specifically designed for kids around 9-12 years old, so most questions are relatively easier to answer.
Unlike most kids' quiz websites, the questions on Mindhubber do not come with pictures. There is also no time limit to solve the questions, so kids can take as much time as they need.
6. Twinkl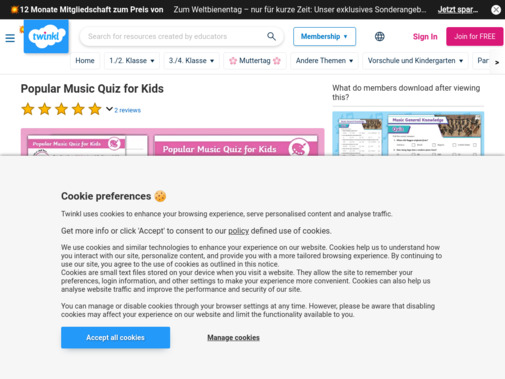 Go to website: Twinkl
If you are looking for separate quizzes for each age group, we recommend visiting Twinkl. This website is specifically made for teachers and parents, and you need to create a free account to access its contents.
Upon signing up, the website asks you to choose what you teach to provide relevant suggestions. You can also select the age range of the children you teach to receive the best recommendations.
Unlike most quiz websites, you cannot solve the quizzes online. You must download them on your device or can upload them on your Google Drive to access the quizzes. The answers to all the questions are listed at the end of the downloaded files.
All the quizzes have a barcode and a link at the top, directing the users to the homework help that links to the quiz. This allows the students to study before attempting each quiz properly.
7. EducationQuizzes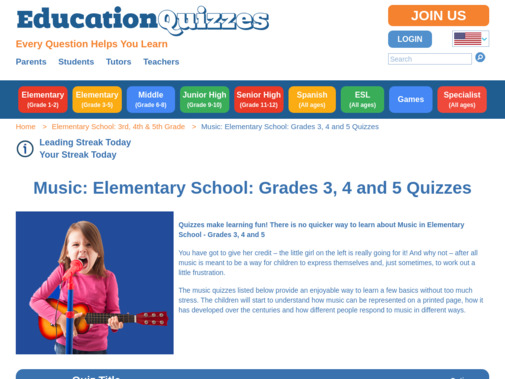 Go to website: EducationQuizzes
EducationQuizzes offers online quizzes for kids studying in Grade 3, 4, and 5. Since the quizzes are developed for a specific age group, they are fun, engaging, and simpler to solve.
Each quiz comes with ten questions, and the answers to the questions pop up after you have selected one out of the four options available. However, you can only solve 15 questions in a day. If you are a teacher or a parent who wants to conduct several quizzes in one day, you must subscribe.
The subscription is paid, and if you subscribe as a teacher, you can create up to 40 different accounts for each of your students. Moreover, you can track the performance of each student individually with your teacher's account.
8. Kidzworld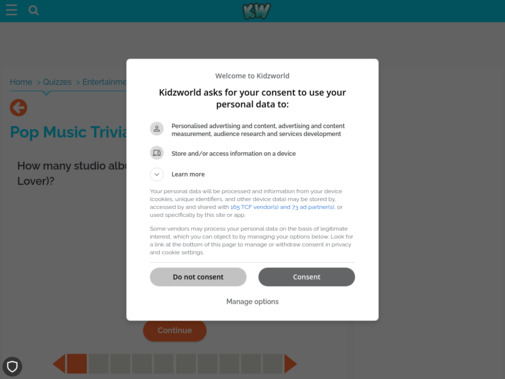 Go to website: Kidzworld
Kidzworld offers a large variety of educational content for kids of all ages. A single question appears on the screen at a time. Once you select an answer, the website tells you if the answer is correct before moving to the next question.
Each question contains a relevant image to increase the engagement level of the kids. However, the quizzes are not printable and can only be played online. If your kids find the quizzes hard, the website also contains a bunch of relevant articles that they can read to enhance their music knowledge.
Summary
This brings us to the end of our guide on eight great kids' music quiz and trivia websites.
The quiz websites listed above are easy to use and provide a wide range of music quizzes for children of all ages. If you are a teacher or a parent who wishes to make learning fun for kids, we highly recommend visiting the aforementioned websites now!